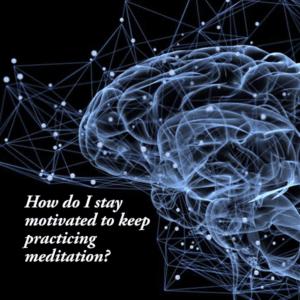 We all start something new with energy and spirit, confident we can continue and achieve whatever goals we set for ourselves—losing weight, getting fit, learning something new. But keeping that motivation going can be challenging, even with the best will. So how do you do it?
The key to staying motivated is…
Don't expect too much too soon. Achieving enlightenment is a process that takes time. You can't rush it.
Start small: a few minutes a day, then gradually work up to the amount of time that works for you.
Keep your mind open. Don't get stuck in a belief that things have to happen a certain way. You will surprise yourself.
Just keep moving forward!
Let yourself appreciate the progress you're making. Free yourself from expectations that meditating is immediately going to solve all the problems in your life.
Meditating and enlightenment are not about solving problems. They're about being able to let go of the material concerns that interfere with our ability to achieve equanimity.
See how I did it, and the challenges I faced!
My book, Home at Last—a Journey toward Higher Consciousness, describes in detail my own process, how it began, the struggles I faced, and where it led me. I hope it inspires you to keep on with your journey. It's worth it in the end!
I'd be happy to answer your questions about motivation and the path to enlightenment. You can send them to me, or invite me to come and speak to your group. I've been told by many that my story has inspired them and motivated them to keep moving forward on their journey to higher consciousness.